Credit Vouchers: a powerful tool during COVID-19 times & beyond
Earlier this month, WebHotelier launched Credit Vouchers, a much-anticipated new feature for both guests and property owners. Using credit vouchers, properties can allow their guests to cancel & re-book their reservations, without the hassle & costs of refunding initial deposits.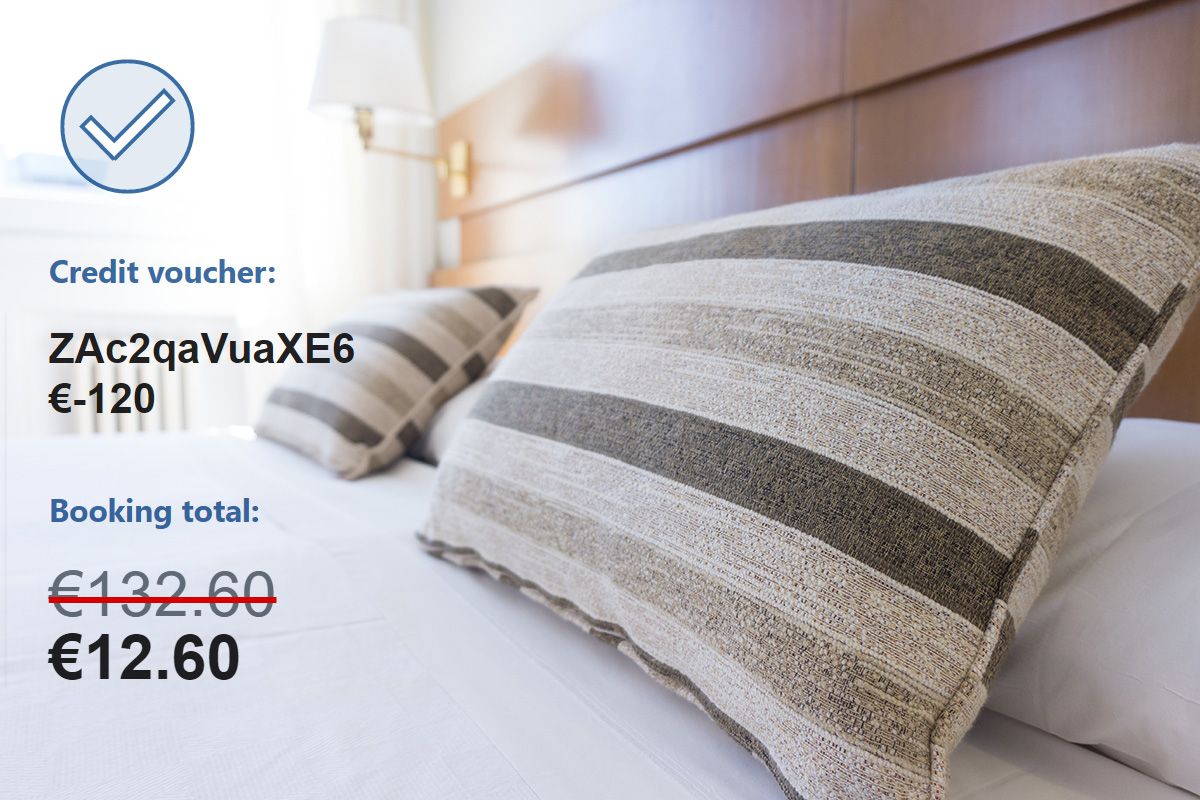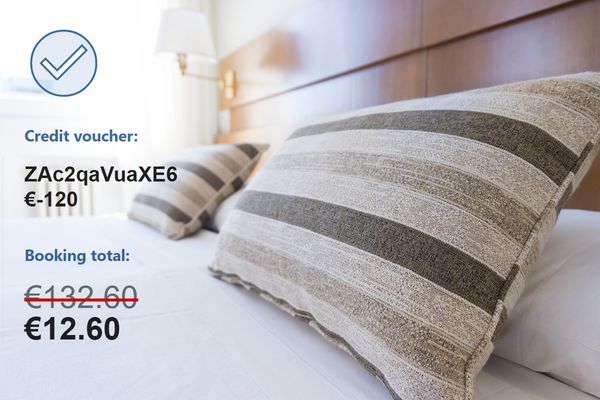 When is it useful?
Credit Vouchers are useful when guests place a cancellation request for their initial booking, but plan to use the deposit as credit for a future booking on unknown – yet – dates.
How does it work?
Once the initial booking is cancelled, instead of refunding the deposit, the property provides the guests with a voucher code corresponding to the same amount.
The voucher code can be issued by the property, with a click of a button from the booking summary page in WebHotelier's extranet. The unique voucher code & credit amount are computed automatically and sent (optionally) to the guests.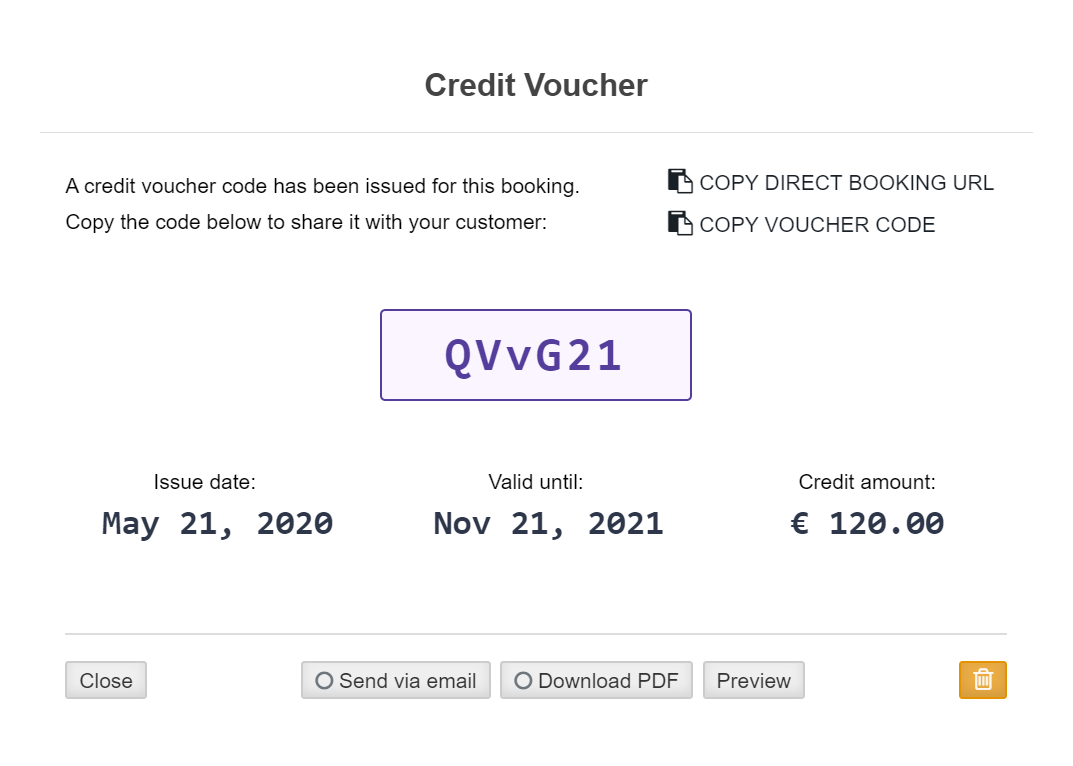 Hoteliers may choose to communicate the voucher code to their guest via a number of methods:
Send the code via WebHotelier's automated email. The system allows to input an alternative email and type a small personal message to your guest.
Manually via phone, email, SMS or other communication methods
Print a PDF containing the voucher code and FAX, mail, or hand in person.
When guests use the credit voucher to book their new reservation, the deposit paid for the initial booking will be deducted (as credit) from the total amount of the new one.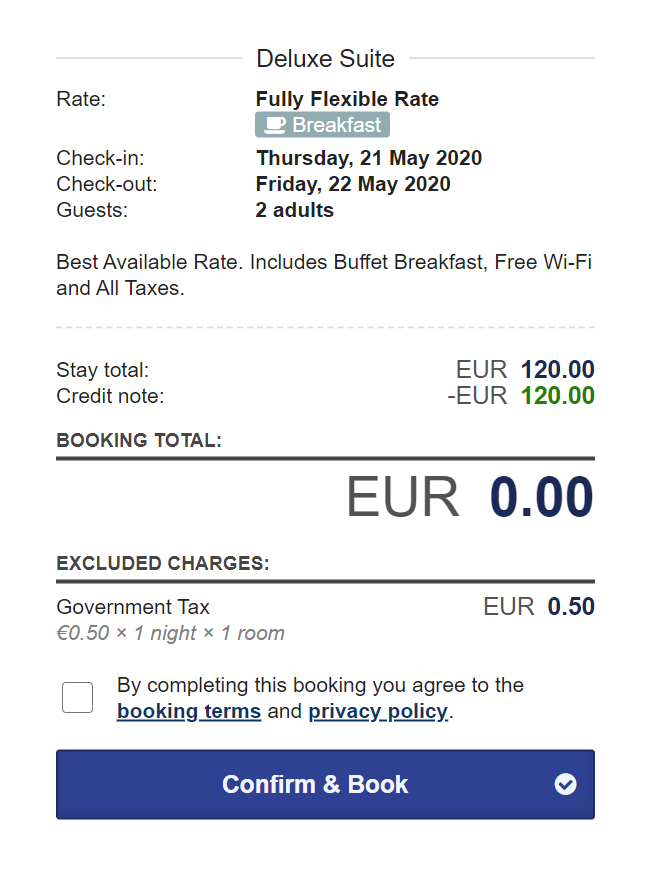 What is the difference between a classic voucher and a credit voucher?
Classic vouchers codes unlock dynamic pricing discounts. Bookings with classic vouchers have a reduced total price equal to that discount.
Credit vouchers, on the other hand, carry a monetary value. You can think of them as money, therefore they do not modify the booking's total value. The credit is added as a (PAM) transaction reducing the remaining guest balance (payment due).
Can a credit voucher be of higher value than what I have collected?
Yes, you can add a "bonus" amount to your credit vouchers. However, since this is not money that you have collected you will probably need to add the difference as a discount in your PMS records. For more, please talk to your accountant.
What happens if the voucher amount is larger than the total amount of the new booking?
In such cases the property and guests should come to an agreement about the difference. In some jurisdictions this is a requirement.
Valid options are:
Issue a new voucher code with same value as the difference
Refund the difference
Provide a room upgrade or an additional service
What is the voucher's validity period?
The property can choose to expire the voucher code if it is not used within a certain timeframe. In some jurisdictions this is a requirement.
The validity period can vary between 1 month and 32 months. Each voucher code may have a different validity period.
The voucher code expiration date is computed from the moment it is generated.
How many times can the guests use each voucher code?
Each voucher code is unique to every booking and can only be used once.
Can credit notes be issued for bookings made through OTAs (e.g. Booking.com or Expedia)?
Yes, they can. There are no limitations.
However, in order for the corresponding voucher codes to be used, the guest must perform their booking online via WebHotelier's booking engine.
Furthermore, for OTA bookings that don't provide the guest's real email address, the option to send an automated message has been disabled. In this case, hoteliers have the following choices:
Provide the real guest email if they know it or,
Send a special link to the guest's virtual email (or via the OTA's messaging system). The guest will see a prompt similar to the screenshot below. As soon as they provide their real email address the system will show them their voucher code. They will also receive a copy via email.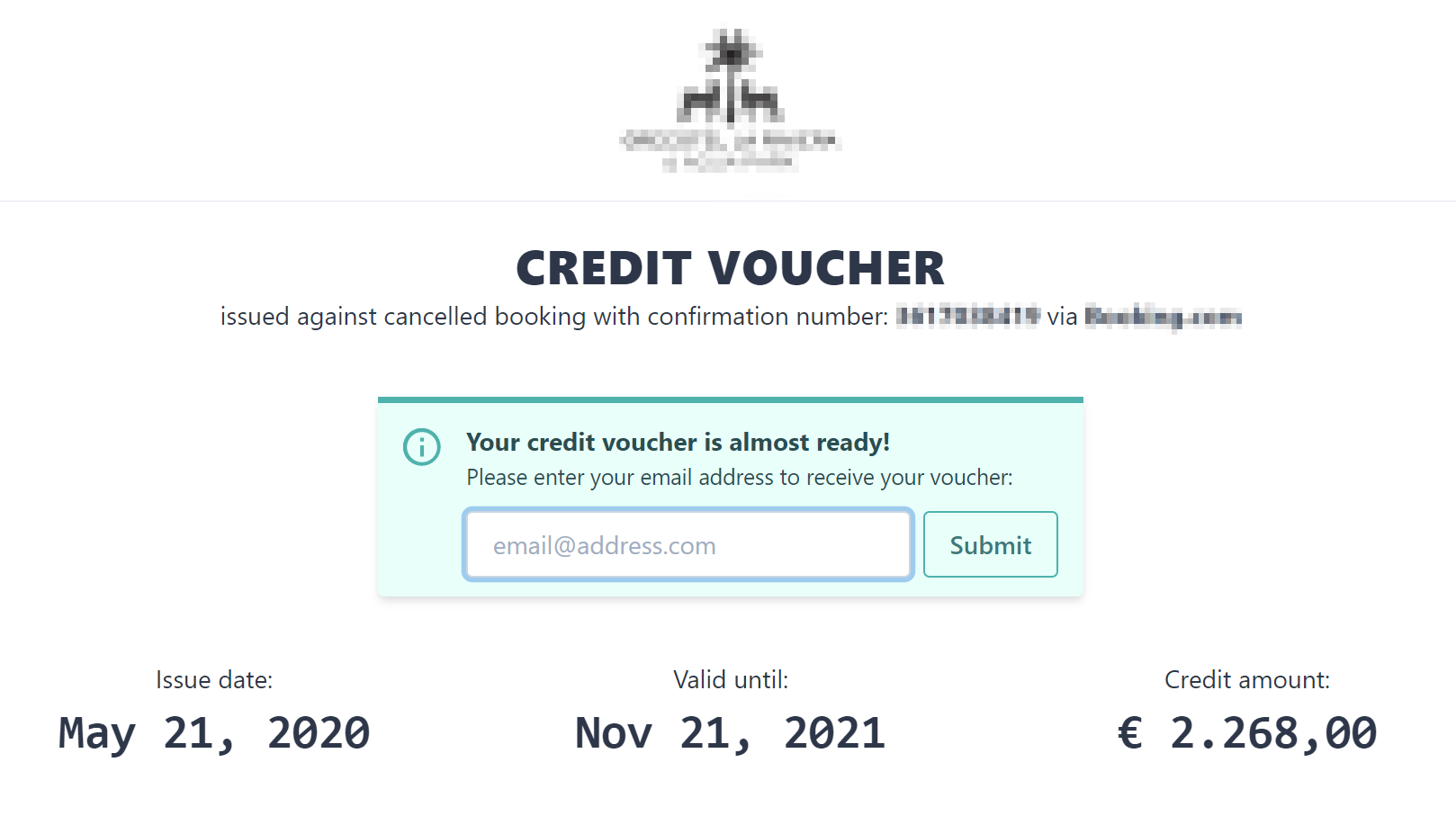 Can credit notes be issued for offline bookings?
Yes, of course. See answer above.
Can voucher notes be issued for bookings with virtual credit cards?
Yes, they can. However, we strongly suggest that the properties first confirm with their OTA partner that the deposit charged on the virtual credit card has/will not be refunded.
The option to issue credit vouchers for bookings with virtual cards is disabled by default. To enable the option, please visit your property settings under the General tab and toggle the following:

Is there an easy way to track all the reservations made using credit vouchers?
Yes, there is; a new filter has been added on your Bookings Report. This allows you to track all the bookings made using vouchers.
I have generated my own voucher codes. Can I enter them in WebHotelier in order to be used on the booking engine?
Absolutely. Credit voucher codes can be added or auto-generated for any dynamic pricing rule. To create a dynamic pricing rule that matches the semantics of our automated credit vouchers:
Create a new dynamic pricing.
Make sure you set "Voucher usage limit" to 1.
Add a zero-effect modifier to make sure that the dynamic pricing is enabled, e.g. "Add 0.0 to the price".
Add a scope to your dynamic pricing. Adding all rooms will suffice but you can also limit it to specific room types or rates.
Click on the voucher column and start adding codes with their respective credit amount.
Optionally, add an expiration date for the voucher code. There are helper timeframe buttons that can make this easier.
I want to add custom credit vouchers but I don't want to generate my own codes.
You can follow the instructions above, but leave the Code field empty. The system will automatically generate a unique and secure (unguessable) voucher code.
The codes will be slightly longer that the ones generated by the built-in credit voucher system since they are not tied to a specific booking and require more characters to be secure.
Can I add an additional incentive to a credit voucher besides its value?
Certainly, by creating custom credit vouchers you have the full power of dynamic pricing at your fingertips. Adding modifiers to the dynamic pricing allows you to offer additional discounts, better payment/cancellation policies, free extra services, etc.
However, please keep in mind that you will need to create separate dynamic pricing records for each incentive "bundle".